This shop has been compensated by Collective Bias, Inc. and its advertiser. All opinions are mine alone. #TeaProudly #CollectiveBias
For today's recipe I'm bringing back that classic Summer feeling with a icy cold glass of fresh brewed iced tea.
A flavorful iced tea is hard for me to find because, in my efforts to maintain a healthier lifestyle, I try to stay away from excess caffeine in my diet. For some reason, I've come to realize that caffeine gives me a racing heart rate and major anxiety. Go figure!
But I love this iced tea recipe because it's super flavorful and lemony, but has zero caffeine because it's made from herbal tea leaves. And I love the fact that Bigelow teas are made in the USA…matter of fact, they're manufactured in the town right next to where I grew up in Connecticut.
Talk about a small world!
So when they reached out to me to do this campaign, I was beyond excited, especially since I would be working with a company that I know is local, family run, and proudly carries the Made in USA label.
The flavor of this raspberry lemon iced tea reminds me of the lazy summer days I spent every year at our beach cottage in Connecticut during the blazing Summer months. Since moving to California a few weeks ago, the warm Springtime temps have made me want to recreate that flavor and feeling.
This recipe is super easy and takes almost no time to make. It also looks amazing in a glass jug or silver teaware, making it perfect for impressing guests at summer garden parties. Follow the simple steps below to make your own pink raspberry lemonade iced tea for your next beach getaway or Spring picnic.
In order to make the tea, I started by creating a tea concentrate. I did this by pouring approximately 8 oz of boiling water over 6 of the 'I Love Lemon' Bigelow tea bags and allowing them to steep for at least 10 minutes. I picked up my Bigelow tea in the coffee & tea aisle in my local Walmart.
While the tea was steeping, I muddled about 1/2 cup of fresh raspberries with a spoon until they were a jam-like consistency.
I spooned the raspberry mixture into the bottom of a glass pitcher, poured the hot tea concentrate on top of it, and stirred to combine. At this time I also added a couple of tablespoons of honey to sweeten it just a touch. (Feel free to use anywhere from 2-4 tablespoons, depending upon your desired sweetness — I've recently been trying to kick my sugar addiction (read more about that here), so I opted to only add 2 tablespoons).
Next, I poured an additional 24 oz. of cold water into the pitcher, which makes the iced tea the perfect temperature to drink immediately. This is great if you're a totally impatient person like I am and can't be bothered to let hot tea cool off, haha.
I also garnished my iced tea with a few sliced lemons and popped a few raspberries in there, but this step is totally optional.
(Click the image below to purchase the "I Love Lemon" Bigelow tea)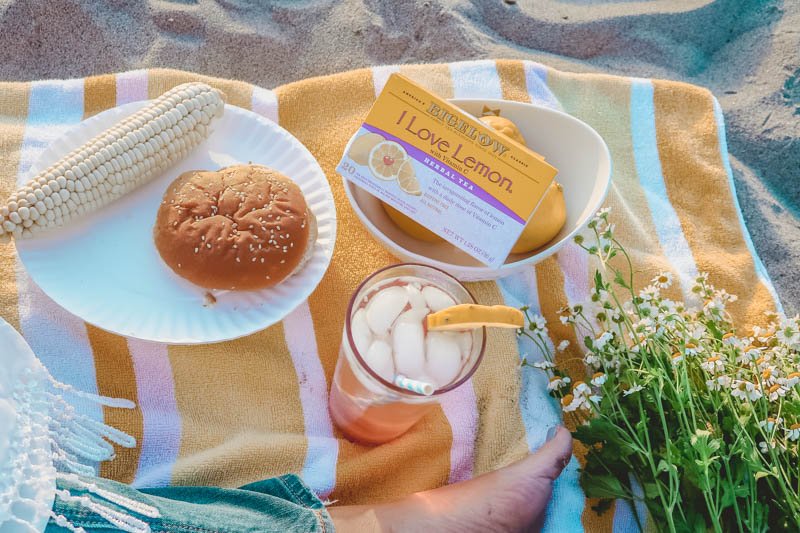 I then took my iced tea to the beach and had a little mini picnic. Although my heart will always be on the East Coast, I have to admit, you really can't beat these California beaches!
Please let me know if you end up making this recipe, I'd love to see how yours turn out! Do you have any other recipes that evoke that "Summer feeling"? Leave me a note in the comments below if you do!