Disclosure: This shop has been compensated by Collective Bias, Inc. and its advertiser. All opinions are mine alone. #watchhowistyle #CollectiveBias
So you just got a call from your best friend, or an important client, or maybe even your boss? You need to be at a holiday party in about an hour.
There's no time to waste, so what's the first thing you grab from your closet to put on? Most likely it's an outfit that's all black. **rolls eyes in boredom**
And while most of us ladies have at least one LBD in our closets…because they literally go with everything and are easy to dress up or down….it doesn't mean that they have to be bor-ing. If you're in need of something black with a little bit of pizzazz to it, you have the perfect excuse to go shopping. Macy's usually have some great fashion brands worth checking out in stock so maybe take a look at their website and use a Raise discount on your purchase to grab yourself a saving too!
So today I'm showing you several simple tips on how to style an all-black outfit that screams stylish and not snoozefest.
How to Style All-Black for Holiday & Everyday
Mix & Match Textures
The look I am wearing in this post is definitely all black. However, I wouldn't say this look is boring at all!
One of the main reasons is because I chose to pair different textures and materials. This creates interest and draws the eye across the entire look, not just at a plain black canvas.
For this outfit, I paired a sheer sleeve mesh top with polka dots and ruffles with a faux leather mini skirt. Combining all of these textures gives my all-black outfit more interest.
You can also play around with patterns and different combinations of textures. Some of my favorite pattern and texture combos are: satin & denim, lace & knits (like a lacy cami under a fuzzy cardigan sweater), and leather & fur. If you have a black satin button down, wear it with a fitted pair of black denim for a perfectly polished look. And a black faux fur is a trendy complement to practically any outfit this season!
Accessorize
As always, a great way to add a little bling to an all black look is to pair it with some unique jewelry. I recently picked up this Anne Klein watch that doubles as a charm bracelet from my local Macy's store. Bracelets have come a long way too, there are so many styles and materials these days. You can really wear them with any outfit. Some even have dual purpose like paracord bracelets. I love experimenting with them, and I love my own varied bracelet collection!
I am obsessed with each and every one of the whimsical little charms (especially the locket!). And wearing it gives me such a nostalgic feeling because my grandmother has one just like it. I used to love to play dress-up with it when I was little.
(And no, my love of playing dress-up has not gone away, no matter how old I get!) If you're looking for a personalized watch for her (or for yourself!) then there are loads to choose from online. I love my watch but there are lots of other great brands out there too!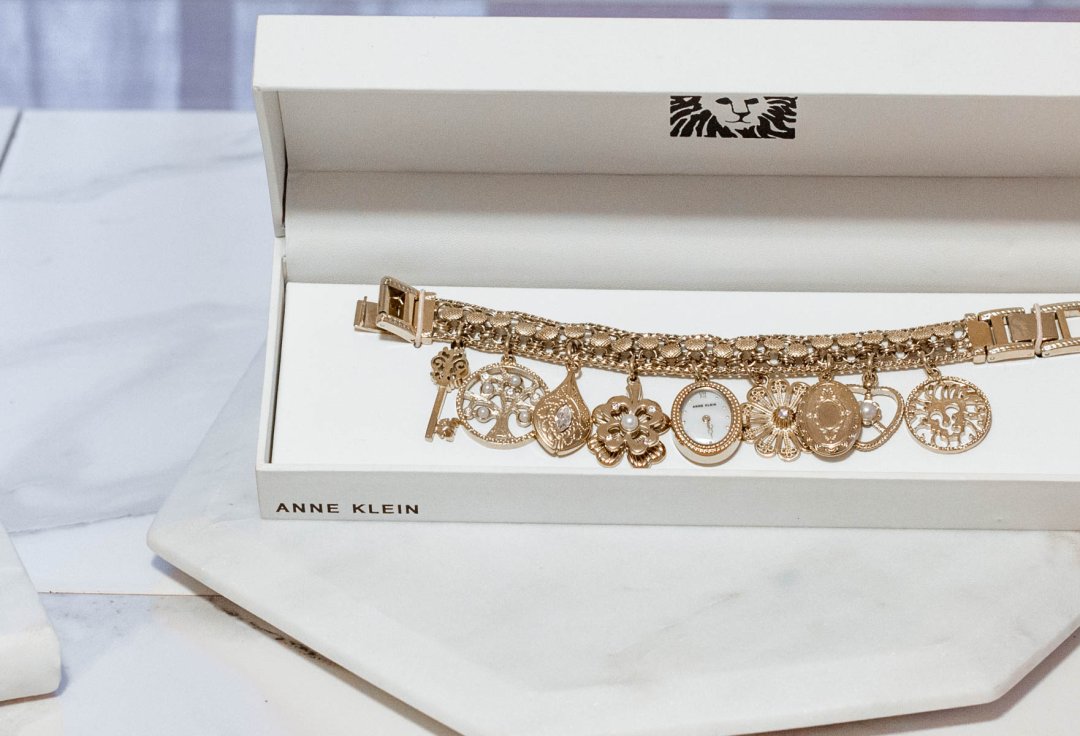 This particular watch style features 8 dangling vintage-inspired charms with pearl and Swarovski crystal accents, including a watch charm with a beautiful mother of pearl face. It would make the perfect gift for anyone who has a love for unique, vintage inspired accessories. It also comes in a branded Anne Klein box which gives major oomph to the presentation factor when giving this watch as a gift. You can hover over the image above to shop this watch directly!
Anne Klein watches come in a huge variety of different styles, so there is definitely a style to fit every woman's fashion needs. I love this particular style because it doubles as a piece of statement jewelry as well as a watch….and if you know me, you know I need all the help I can get when running around and trying not to be late!
Change Up Your Hairstyle
Another way to add a fun pop to your outfit is to change up your hairstyle from your usual/everyday look.
You know how Marge from accounting wears the same basic look everyday and never wears any makeup in the office? Then you see her all dolled up at the company holiday party and you're like "Wow, Marge, you look great!"
It's a refreshing change of pace from the everyday. Well, that's how I feel about switching up your hair with a creative, new style.
I'm wearing a side braid here, and I personally love all things braids, but you could also experiment with a topknot, a sock bun, or a super sleek straight high ponytail. If you usually wear your hair straight, do it curly, or vice versa. Switching up your hairstyle is holiday approved!
Wearing all black is also the perfect opportunity to show off a unique hairstyle, because your all-black outfit won't be competing for attention. If you were wearing a flowered fringe kimono, ripped jeans, and flashy boots, your fancy hairdo would probably compete with such a busy outfit and seem like "too much". But if you wear all black, it acts as the perfect canvas for that fancy 'do!
Add a Statement Shoe
One of the easiest ways to add a little sizzle to an all-black look is to rock a statement shoe. Now, I purposely wore a black shoe with my look to keep with the all-black theme I am trying to demonstrate. But you can see that this shoe is a unique take on a standard black pump, adding a bit more sass to the outfit.
However, if you'd like to be a bit more daring, red is the color of the season (I mean, it's actually a color trend at the moment, not just because it's Christmas!) and you could easily pair a black dress with a red bootie for a fun pop of color.
Brocade booties are also on trend this season, and they come in tons of luxurious prints & colors. You could go for some fun floral booties in jewel tones or some eye-catching metallic designs (metallics always pair well with black!)
So, do you have any other tips for styling an all black outfit? What's your favorite way to accessorize your LBD during the holidays?
Let me know in the comments below!
And if you liked these styling tips & tricks, be sure to subscribe to the Quartz & Leisure newsletter or follow me on: Instagram, Twitter & Pinterest! ?
Thanks for reading!
Xx